The Company:
The Umm Al Hayman for Wastewater Treatment Company K.S.P.C. (the "Company") is a Kuwaiti Shareholding Public Company incorporated under the provisions of Law No. 116 of 2014 regarding Public Private Partnership (PPP) and its executive regulations. The Company was incorporated on 27th November 2019, and its commercial license was registered at the Ministry of Commerce and Industry on 26th December 2019 (date of inception) having commercial registration number 405432.
Objective:
The objective of the Company is to build the facilities that operate efficiently, while at the same time being ecologically compatible, is attained by effectively blending the elements of Water and Energy. The Company together with WTE assures the usability of the energy sources along the entire process chain. This shall enable the facilities to be operated in an energy self-sufficient and energy-saving way and even feed energy into the national grid system.
MPW "The Buyer":
On 23rd January 2020, the Company signed a Transmission and Sewage Treatment PPP ("TST PPP") Agreement with the State of Kuwait represented by the Ministry of Public Works ("MPW" or the "Buyer") which consists of Build, Operate & Transfer ("BOT") works scheme and Design, Built & Operate ("DBO") works scheme together referred as the Umm Al Hayman Wastewater Project (the "Project").
Shareholding: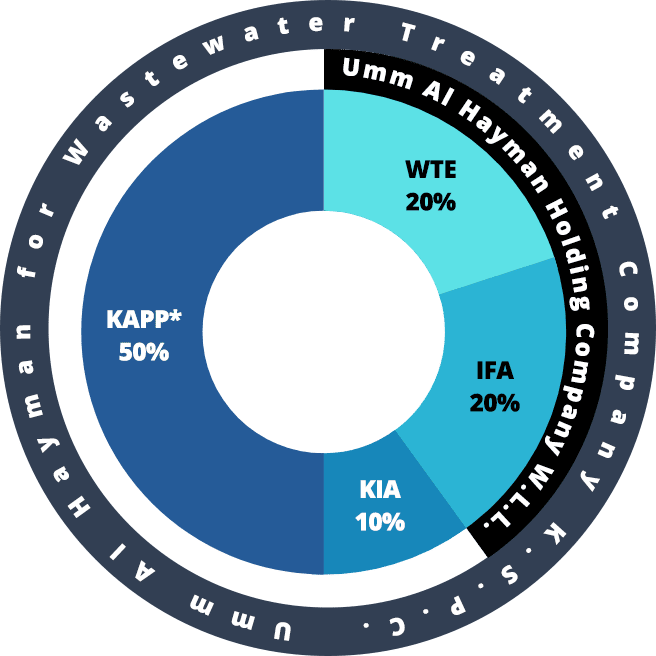 The Company is 40% owned by a private consortium comprising WTE Wassertechnik GmbH (WTE) and International Financial Advisors (IFA) and 60% owned by the Government authorities of the State of Kuwait comprising Kuwait Investment Authority (KIA) having 10% shareholding and Kuwait Authority for Partnership Projects (KAPP) having 50% shareholding (on behalf of the Kuwaiti nationals). The 50% shareholding owned by KAPP will be distributed to the Kuwaiti nationals through a distribution process managed by KAPP upon completion of the construction activities.